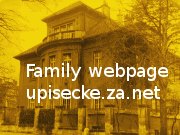 Rev. 19 July 2019
All the best to
Madeleine Brodén
19 July 1986
Hana Fléglová
20 July 1931
Matýsek Dvořák
21 July 2018
Vilém Heger
22 July 2008
Bo Svensson
24 July 1958
Jolanka Dvořáková
25 July 2016
Alva Vavruch
25 July 2018
Oliva Lhota
26 July 1952
Camilla Vavruch
7 August 1984
Slávina Petrová
9 August 1937
Zacharias Samuelsson
9 August 2006
Jakub Nimrichter
11 August 1996
Barborka Veltruská
12 August 2004
Alicia Bernin
12 August 2004
Lovisa Brodén
13 August 2017
We will never forget / Vzpomínáme

***

A late arrival at the Nashville airport left me standing in front of a car rental agent one night. In a heavy southern drawl, she asked, "Can ah help y' all?"

After processing my order, she said, "I have an Accent. Is that OK?"

"I don't mind at all," I said. "Being from New England, I have one, too."

She waited a minute before replying, "I meant the car. I have a Hyundai Accent."

***

During a class about the effects of weather, my high school science teacher asked, "Does anyone know the first sense you lose when struck by lightning?"

A classmate put her hand up and answered, "Your sense of humour?"

***

After a health scare, I hugged my wife and whispered, "If something happens to me, the presents in my closet are yours."

She whispered back, "If anything happens to you, everything in your closet is mine."

***

SCENE: Bar

Me: What's the Wi-Fi password?

Bartender: you need to buy a drink first.

Me: OK, I'll have a Coke.

Bartender: Three dollars.

Me: There you go. So what's the Wi-Fi password?

Bartender: "you need to buy a drink first." No spaces, all lowercase.

***

Teaching is not for sensitive souls. While reviewing future, past, and present tenses with my English class, I posed this question: " 'I am beautiful' is what tense?"

One student raised her hand. "Past tense."

***

SCENE: A sixth-grade class
Teacher: What are the harmful environmental effects of oil on fish?
Pupil: When my mom opened a can of sardines last night, it was full of oil and all the sardines were dead.

***

I recently asked a student where his homework was.
He replied, "It's still in my pencil."

***

My son and I were checking out a house he was interested in buying. When the owner came to the door, she looked at me and said, "Larry? I know you. We went to school together. I'm Elaine. Don't you recognize me?"
I drew a complete blank.
She took out our old yearbook and showed me her graduation picture — still nothing. "Let's look at your picture," she said.
She flipped the pages until she came to me. Under my photo I had written,
"Elaine, I will never forget you."

***

Knock, knock.
Who's there?
To.
To who?
To whom!

***

After painting the bedroom walls, my husband prepared to put back the pictures.
"How should I hang them?" he asked me. "Too high or too low?"

***

Done with dating sites, I'm now focusing on pizza delivery guys because at least I know they have a job, a car...and pizza.

***

What my girlfriend thought, first four dates:
1. Nice shirt.
2. Wow. A second nice shirt.
3. OK, first shirt again.
4. He has two shirts.

***

One lazy Sunday morning, as the wife and I were sitting around the breakfast table, I said, "When I die, I want you to sell all my stuff immediately."
She asked, "Now, why would you want me to do something like that?"
"I figure you'd eventually remarry, and I don't want some other jerk using my stuff."
She looked at me intently and said, "What makes you think I'd marry another jerk?"

***

The skills section of your résumé is where you can impress hiring managers with your qualifications. Or not, as these real examples show:
• "I offer mediocrity at its best."
• "I'm try-lingual."
• "I've got a PhD in human feelings."
• "Grate communication skills."
• "Familiar with all faucets of accounting."
• "Extensive background in public accounting. I can also stand on my head!"
• "Ability to meet deadlines while maintaining composer."

***

A rabbi, priest and imam are at the funeral of a mutual friend, and are discussing how best to express their admiration for him. The Imam suggests that they all put an amount of money into his coffin to be cremated with him, as a sort of burnt offering. He takes out his wallet, takes out a hundred-dollar note, and puts it into the coffin. The priest, not to be outdone, takes two hundred-dollar notes out of his wallet and places them in the coffin. The rabbi says that he will outdo them both and contribute three hundred dollars to the burnt offering. He takes out his cheque-book, writes a cheque for six hundred dollars, places it in the coffin, and takes out the three hundred-dollar notes as change. He then closes the coffin, and starts the conveyer belt that takes it to the incinerator.

***

Half of all employers know within the first five minutes of an interview if a candidate is a good fit for a position. It's a wonder these people made it past the first five seconds.
• Candidate sang her responses to questions.
• Candidate put lotion on her feet during the interview.
• When asked why he wanted the position, candidate replied, "My wife wants me to get a job."
• Candidate had a pet bird in her shirt.
• Candidate started feeling interviewer's chest to find a heartbeat so they could "connect heart to heart."